<figure>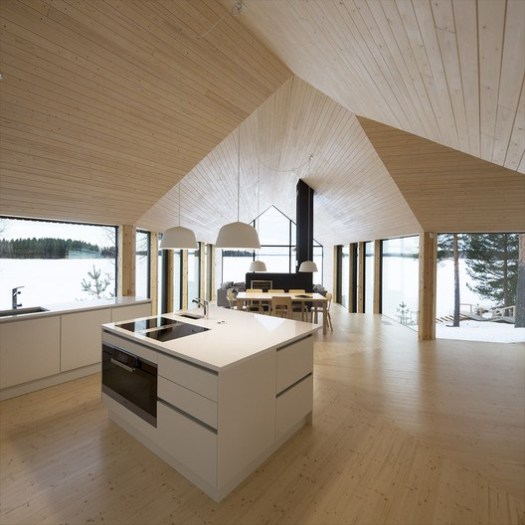 © Marc Goodwin
Structural Engineer: Risto Linnakangas, Insinööritoimisto Risto Linnakangas Oy

Hvac: Iisalmen Putkiasennus Oy

Electrical Designer: Iisalmen Sähkö- ja Automaatiosuunnittelu Oy

Builder: Rakennusliike Meserak Oy

Glazing: Savon Lasituote Oy

Fixture Design: Tintti Kangaskolkka, Suunnittelutoimisto Tintti Kangaskolkka Oy

Carpenter (Fixtures): Juha Huttunen, Vahtituvan Puusepänverstas

Fireplace: Takkamaailma Oy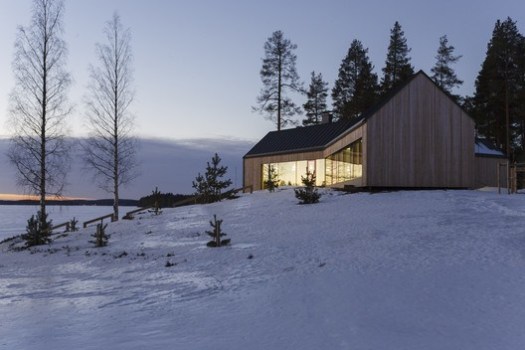 From the architect. The client inherited an unattractive "McMansion" with poor spatial layout from his father. The house was designed to meet the tastes of the former generation. The site also featured a large pompous garden with extensive manicured lawns. The house was too big and expensive to maintain. The client wanted to restore the plot to a natural pine forest, and built a small home that fully engages with the surrounding landscape. An added bonus to the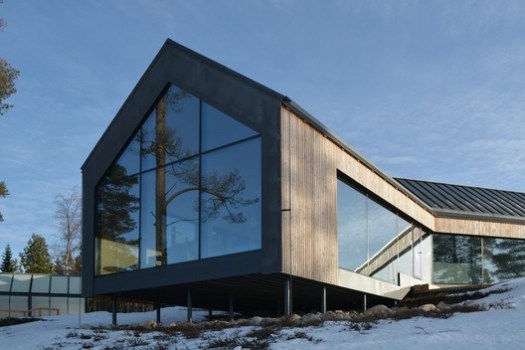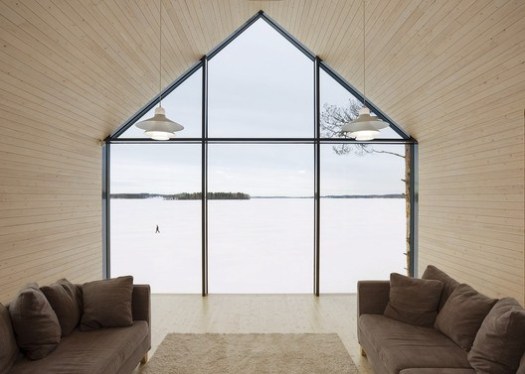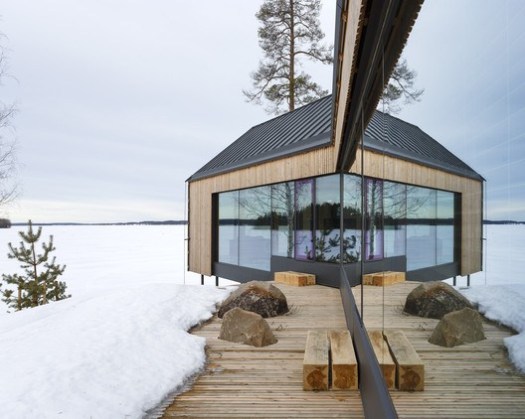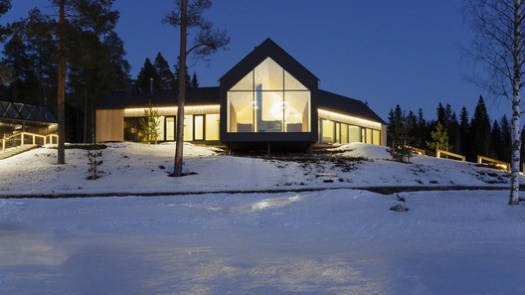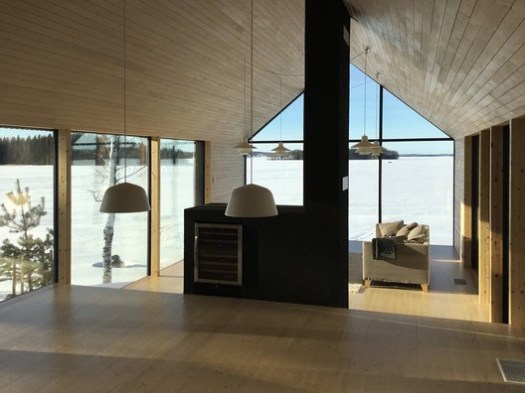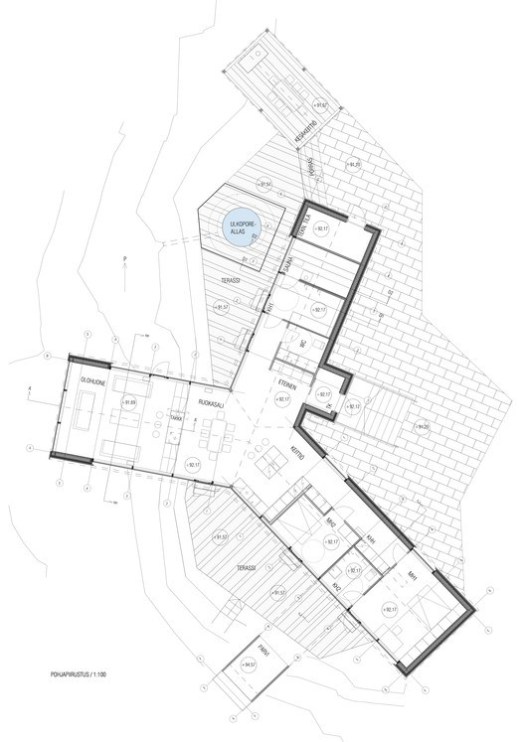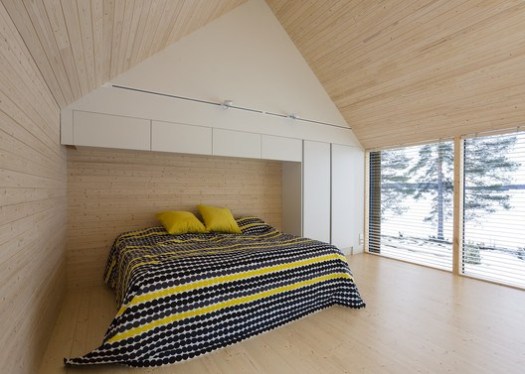 pine forest is that the client doesn't need to mow any lawns! The new house and garden have been designed to meet contemporary tastes. Hence, this project represents generational shift in design ideology / ecology.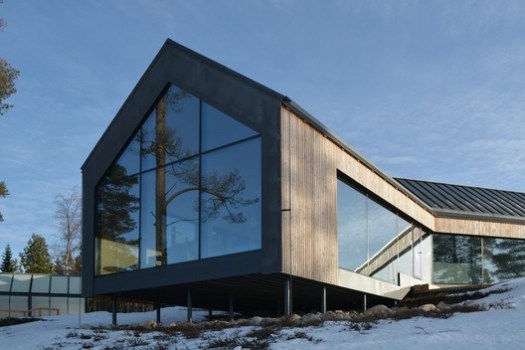 Concept The house consists of three barns put together in a y shape. Each of the three wings possess a different spatial scale (width & height) to meet their individual functions and to create a sense of hierarchy. The scales change to always maintain a pleasant atmosphere. Because of the amazing location, perfect natural light conditions and vistas, the architect did not want to emphasize a specific view. The design concept allows an uninterrupted 245° lake-view. The daily functions of the house follow the cycle of the sun: meals starting with breakfast, evening socializing in the lounge, sauna and bed. Because it is situated on a windy site, the Y-shaped house concept provides protected yards on each side of the house.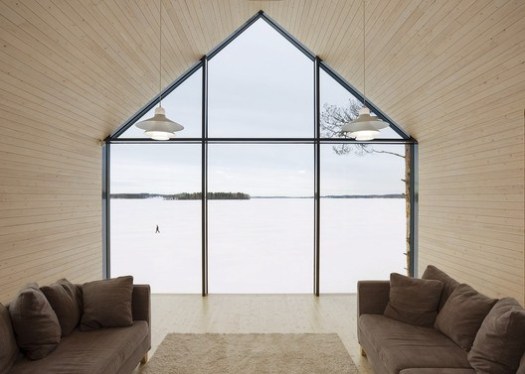 The house and the patio are raised to enhance the experience of the scenery. In doing so the scenery appears even more magnificent and imposing than it actually is. By building the living room as a canopy toward the lake the room appears to be floating above water (when viewed from the interior). You cannot see the shoreline of the plot from inside the living room. There is an exit from every room of the house, so in the summertime the interior and the exterior are truly one.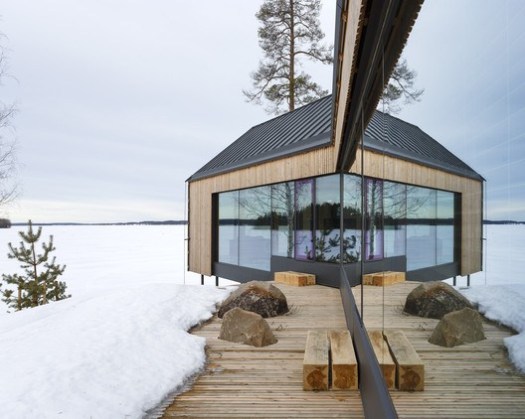 Exterior The house was designed to possess a dual quality. From the side of the main entrance it appears closed, old and traditional (hopefully even a little bit shabby). On the other side, towards the lake, the house opens up with lots of glass and large patios. The wood used on the exterior is untreated so that it will turn grey over time. A goal was to design the exterior to appear scaleless. The important thing was to make the windows to appear as openings on the walls of three connected barns.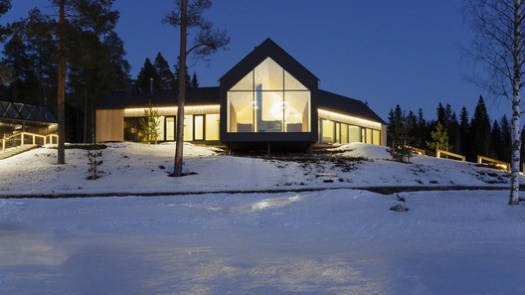 Interior The interiors are clad with a subtly whitened spruce to enhance the experience of the scenery. The concept of three inter-joined wings and extensive use of glass create a spatial flow inside the house. The cell like spaces of the bathrooms and bedrooms are introduced into the open interior space as boxes made of white plywood. This was done to enhance the illusion of an old barn that has been  converted into a contemporary house. Finally, as a traditional focal point in a home, a large black fireplace acts as the centerpiece of the interior.